Public Access Computers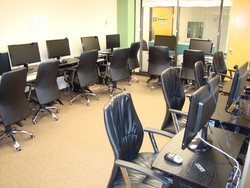 Effective Monday, March 16, Sage will be open for social work and health services appointments only.
Services have been suspended in order to support social distancing measures for at risk populations (seniors) during a pandemic (COVID-19/Coronavirus).
Please check back daily for updates.
"I like the computers at Sage, because I use them. I check lots of things on the computer, practice my typing skills, and print things out. It's very helpful to have the computers at Sage. There are people around when I'm having problems to help me fix my mistakes, or reassure me that there is something wrong with the computer and it is not always me making mistakes!"
Computers are an important part of society. Yet, not everyone has computer or internet access at home. Even if you have a computer, you may prefer the social aspect of using computers where there are other people around. Sage realized the need for computers for seniors to work, volunteer, play games, find information, and contact family and friends. 
Sage members may use the Public Access Computers Monday to Friday from 8:00am to 4:00pm. The computers are located on the 3rd floor in a quiet and enclosed space.
The Public Access Computers are used by individuals and classes, such as:
- BrainFit
- Using Personal Computers
- Using the Internet: Basics
- Edmonton SeniorNet
These classes are funded by ECALA.
For more information or to register in one of the computer classes, please contact the Life Enrichment Coordinator at 780-701-9016.
For general questions about the Public Access Computers or to set up access, please contact reception at 780-423-5510.
Policies and guidelines for use of the Public Access Computers: PAC Policies and Guidelines; PAC Policies and Guidelines (Large Font)