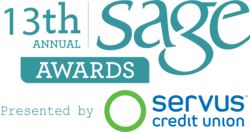 Here's to the community champions. The ones who build innovative, inspired, healthy, just, and sustainable communities. The knowledge holders. Gift sharers. Trail blazers. Ground breakers.
Celebrate seniors. Celebrate community. The 13th Annual Sage Awards. Nominate a senior you know today. 
The Sage Awards, presented by Servus Credit Union, celebrates seniors who inspire, empower, and engage others in making our community, province, and world a better place to live, work, and play. We honor those who achieve and contribute to our community since reaching the age of 60. The 13th annual Sage Awards will take place during senior's week, on June 6, 2019.
We are now accepting nominations from January 10 to February 28. Click here for nomination information. 
Tickets can be purchased online here.