2013 Sage Awards
Arts & Culture - Dr. Earle H. Waugh
Community Building - Bruce Hogle
Education - Dr. Albert Cook
Health & Wellness - Dr. Richard B. Stein
Public & Non-Profit - Jean Innes
Public & Non-Profit - Maurice White
Science & Technology - Len Shrimpton
Social Justice & Peace - Terry Lusty
Sport & Leisure - Sukhdarshan S. Pannu
Transportation - Doreen Armstrong
Congratulations to all who were nominated for a Sage Award
Douglas Bingham
Jack Little
Robert and
Eleonore Bauer
Marian J. Bialas
Joyce Krachkowski
Helmut Nikolai
Shirley A. Rocque
Rena White
Rosemarie Biggs
Mufty Mathewson
Gerald D. (Bud)
Salloum
Peggy Bevan
Don Cheeseman
Gillian Horwitz
Ed Riediger
Arnold Rumbold
Chuni Soman
Norm Wuetherick
Leslie Edwin (Lee)
Ahlstrom
Richard Awid
Arnim Joop
Sylvia Krogh
Val Smith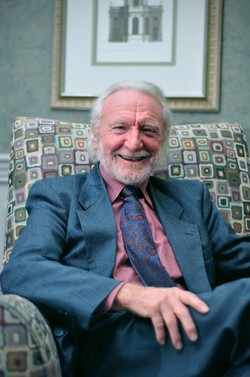 DR. EARLE H. WAUGH - ARTS & CULTURE
Theodore Roosevelt said that "Wide differences of opinion in matters of religious, political, and social belief must exist if conscience and intellect alike are not to be stunted." This inclusive and sensitive philosophy is echoed by the life and work of Dr. Waugh. Perhaps receiving the Cree name, "Piwapiskomostos" (Iron Bull), is the most succinct way to describe this tenacious activist for tolerance. Since his retirement from the U of A, he has become a tireless advocate for the Cree, Muslims and for cultural based health initiatives. Along the way he has gathered diverse groups into dialogue, authored and edited books, and written and produced films. He has garnered awards for his edit of The Alberta Elders' Cree Dictionary and its subsequent app. He has received honours for his persistent peace initiatives and been nominated regularly for his cultural teaching films. From the first Cree Traditional Healers gathering since 1936, to a multi-faith meeting post 9/11, to countless conferences, film and cultural studies, Dr. Waugh has encouraged understanding and respect for the ethnic and religious groups of Canada.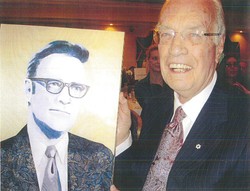 BRUCE HOGLE - COMMUNITY BUILDING
On his charity's website, it says, "There are people who say they care and then there are people who show they care." Bruce Hogle, an inspirational member of the "100 Edmontonians of the Century", is decidedly one of the latter. He is tireless in his search for justice for each within our community. The founder of the Good Neighbour Fund, he is also the impetus behind Operation Red Coat/Red Fez which saw Alberta Shriners and RCMP members team up to locate children in rural isolated areas to receive medical care at Shriners Hospitals. Diligently, he's worked with the CNIB, helped establish a radio station network that broadcasts specifically to the visually impaired, served on the Premier's Committee in Support of Alberta Families, governed the Lifesaving Society and a multitude of other organizations, run financial campaigns for the Salvation Army, Edmonton Library and others, while even finding time to spearhead collecting 7,000 pairs of skates for children in the Territories. His energetic, positive attitude has deservedly earned him an Order of Canada, Alberta Order of Excellence and many other honours.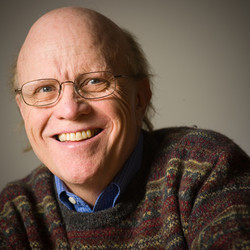 DR. ALBERT COOK - EDUCATION
Mark van Doren advised, "The art of teaching is the art of assisting discovery." This is perhaps most true describing this Professor of Speech Pathology and Audiology. As the Past President and Fellow of RESNA, the professional society for Assistive Technology Practitioners, and other organizations, Dr. Cook has facilitated many great discoveries. Under his mentoring and guidance, his research and implementation of Assistive Technologies became the I CAN Centre at the Glenrose Rehabilitation Hospital. It has enabled countless children, adults and seniors to communicate their uniqueness and interact in this world. Coordinating with Grande Prairie Regional, Keyano, NorQuest and Bow Valley Colleges, as well as Provider organizations Excel Society, Bethany Society, CapitalCare, CareWest and Alberta Health Services through the Institute for Continuing Care Education and Research, Dr. Cook is a leader and strong advocate for addressing seniors' needs throughout Northern Alberta. A Member of the Seniors Advisory Council for Alberta, visiting seniors and advising the Minister of Health on their issues, Dr. Cook was the winner of the Excellence in Leadership Award from the University of Alberta in 2009.
DR. RICHARD B. STEIN - HEALTH & WELLNESS
Whether it was fitting musician Hank De Marco with a bionic saxophone operated by prosthetic sleeve for his amputated arm, or reading of a heroic survivor of 9/11 who ran down 70 flights of World Trade Centre stairs on his artificial C-Leg, Dr. Richard Stein has led his team to the place where research transforms lives. This Professor Emeritus in the Centre for Neuroscience, which he founded at the University of Alberta, has won an impressive list of awards, including the prestigious Barbara Turnbull Award for Spinal Cord Injury Research and two Da Vinci Awards as well as standing as a finalist for the ASTech Outstanding Leadership in Science in Alberta Award. But this impressive mentor and humble man prefers to focus on the countless beneficiaries of his research and advances in technology. For those with disease or injury who have access to new products based on this remarkable investigation in pattern generation of walking, reflex modulation during movement, and replacement of function after spinal cord injury, it is they who ultimately walk away with the honours.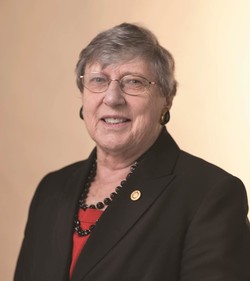 JEAN INNES - PUBLIC & NON-PROFIT
It is said, "Volunteers don't just do the work - they make it work." To do so takes tenacity, humour and vision. Luckily these gifts reside bountifully in Ms. Innes. After a career in nursing, she "retired" into an eighteen-year vocation of volunteerism that has led her to become a champion for the health and wellness of seniors in Edmonton. There is scarcely a task force, focus group, planning committee or council that has not seen her smiling face nor benefited from her invaluable insights. From the Edmonton Task Force on Community Services for Seniors from which arose the Edmonton Seniors Coordinating Council where she serves as co-chair, to the development of a Vision for an Age-Friendly Edmonton Action Plan, Ms. Innes has been an invaluable resource for and supporter of seniors in this city. She is dedicated to ensuring accessible, first-rate services, assuring quality of life and allowing aging in place. Currently chairing the Consumer Advisory Committee, Specialized Geriatrics at the Glenrose Rehabilitation Hospital, this tireless and passionate advocate is a true asset to seniors.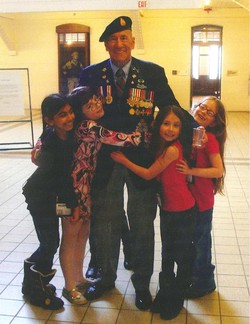 MAURICE WHITE - PUBLIC & NON-PROFIT
Albert Schweitzer advised, "Example is not the main thing in influencing others, it is the only thing." One of our treasured exemplar citizens is Maurice White. Tirelessly, he has volunteered with the Royal Alberta Museum and logged well over 1,000 hours at the Loyal Edmonton Regiment Military Museum, primarily leading tours and recounting honest stories of WWII. With countless students he has shared his biographical video, "Battle of Ortona", and answered the youth's resulting questions with frankness, patience and sensitivity. It is that honest emotion that places a face to the history for a new generation. But he has gone further. Nine times, he has led teens to Italy. Prior to departure, each student chooses one fallen soldier to research. In bleak graveyards, so far from their homes, each stands by their soldier's resting place and reads the eulogy for the man they have come to know. It is a moment of deep poignancy and something Mr. White wishes everyone could experience. Thanks to his work, we have those memories beautifully preserved for generations now and to come.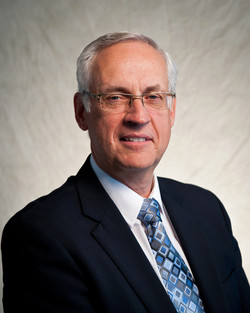 LEN SHRIMPTON - SCIENCE & TECHNOLOGY
Maya Angelou wrote, "If I could give you one thought, it would be to lift someone up." For Len Shrimpton, elevating others is not only his passion: it also means a healthier balance of professionals in APEGA, the 68,000 member Association of Professional Engineers and Geoscientists of Alberta. When he realized that only 10% of these were women and just .1% were Aboriginals, he began a radical recruitment plan. First, he formed the National Women and Aboriginal Advisory Committee and added an extensive mentoring program. He also formed the Women in APEGA and Aboriginal Affairs Advisory Committees. He supports an innovative website, EnGenious.ca that exposes youth to math and science basics as well as future employment options. He pursued curriculum issues in partnership with the Alberta Science Literacy Association, and figured in the signing of a Memorandum of Understanding with Treaty 8 First Nations of Alberta, Edmonton Catholic School District and the Calgary Board of Education. This focuses on improving provincial math and science outcomes while exposing students, especially girls and Aboriginals, to careers in engineering and geoscience.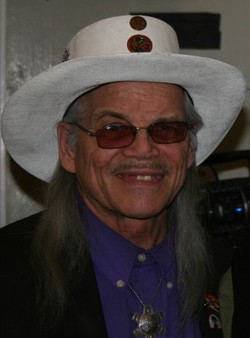 TERRY LUSTY - SOCIAL JUSTICE & PEACE
John Holmes wrote, "There is no exercise better for the heart, than reaching down and lifting people up." If this is true, Mr. Lusty must have heroic cardio strength for he has carried many from pain into healing. Sent to a Residential School at three, he rather miraculously reclaimed his heritage, discovered wellsprings of talent in photography, poetry, singing and acting and became the trail blazer to thousands. With ten books, tens of thousands of photos and an impressive résumé of cultural and historical presentations and performances, he is one of the foremost Métis historical, social and political activists. His honours and awards are legion, for his dedication to the Edmonton Aboriginal Seniors Centre, his development work on the Aboriginal Gallery in the Royal Alberta Museum and his commitment to the Elders Wisdom Circle and Native Friendship Centres. He has supported an extensive list of other organizations and achievements. But it is his compassion for others that has devoted him to the care for other Residential School Survivors, offering research, compassion, application support and counselling.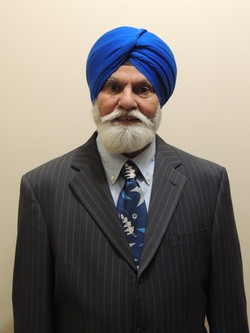 SUKHDARSHAN S. PANNU - SPORT & LEISURE
Helen Keller noted, "Being good is commendable. But only when it is combined with doing good is it useful." This echoes Mr. Pannu's life motto: Service to humankind and dedication to the happiness of all humanity. As an enthusiastic and cherished coach of the Edmonton Eagles Field Hockey Club, he has an enviable record of Five Silvers and a Gold Medal for his team. But his greatest goal has always been to inspire the youth of the Edmonton Southwoods Community League and to offer them a physically active option in an increasingly sedentary, technological world. The Honourable M.P. Tim Uppal has recognized Mr. Pannu for his great contribution to sports and social services in different organizations. The Sikh Federation of Edmonton has also honoured his Outstanding Support in the Area of Their Athletics Committee. All understand the importance of inspiring youth and presenting them with a creative and wholesome outlet. Tirelessly, Mr. Pannu also devotes himself to many worthy organizations, creatively raising funds for the Red Cross, the Salvation Army, the Heart and Stroke and the University Hospital Foundations.
DOREEN ARMSTRONG - TRANSPORTATION
Tom Brokaw claims, "It is easy to make a buck. It's a lot tougher to make a difference." This certainly describes Doreen Armstrong. She and her husband were avid travellers, vowing that they would eat bread and cheese for a month in exchange for a journey to a new place. But she may be best remembered for her many short trips. For years, she has been a volunteer driver helping a multitude of seniors reach medical appointments, complete their shopping and attend functions throughout the area. Throughout an amazing career of fifty years, she has volunteered to insure quality of life to seniors, enabling them to remain in their own homes. Tirelessly, she has recruited others and served on countless boards (including the Alberta Council on Aging, the Edmonton Seniors Coordinating Council and Seniors Caring About Seniors.) She is the founder of Lifestyles Helping Hands Seniors Association where she continues to arrange transit for literally hundreds. Currently she is active on the Door Through Door campaign, trying to establish a uniform seniors' transportation program for the City of Edmonton.