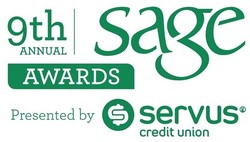 We are pleased to announce the Award Nominees and Recipients for the 2015 Sage Awards!
Sage Award Nominees 2015
Linda Ambrose
Barbara Blackley
Joan Boddy
Dawning Boston
Joan Bowes
Betty Jean Boyd
Margaret Day
Jean Deslauriers
Marty Forbes
Mary Fung
Karen Lee Gall
Karl Christian Hansen
Sheila Humble
Zora Singh Jhajj
Germaine Lehodey
Keith MacDonald
Patricia E. Mackenzie
Mufty Mathewson
Cathy McLean
Betty Morgan
Richard Nichols
Sanae Ohki
Sherry Paran
Nancy Rae
Barbara Rankin
Don Reid
Don Reimer
Atiya Siddiqui
Shameem Quawi Siddiqui
iane E. Sims
Olive E. Sydor
Amanda Tarnawski
Barend (Bob) Vander Maas
Donna Wilkie
Sharlene Wyness
Sage Award Recipients 2015
Arts & Culture................Mrs. Gwen Molnar
Community Building........Mr. Donald R. Milne
Education.......................Mr. Larry Loyie
Environment..................Mrs. Enneke Lorberg
Health & Wellness...........Mr. & Mrs. John & Louise Miller
Public & Non-Profit..........Mr. Lorris Williams
Science & Technology.....Mr. Nick Malychuk
Social Justice & Peace.....Mr. Gurcharan Singh Bhatia
Sport & Leisure...............Mr. Art Brochu
Transportation................Mr. Larry Pempeit
 A list of Nominees and Recipients is available here.
Arts & Culture
Mrs. Gwen Molnar
Few of us have lived our lives in such a way that our accomplishments before the age of 60 are overshadowed by those in our 70s and 80s. Mrs. Gwen Molnar, painter, poet, author, and memoirist, is one of those few.
Her paintings, in both traditional and digital media, are held in private and public collections, and are widely appreciated.
At age 57 she began writing children's poetry, and at 61 was one of Canada's top-selling children's authors. Many titles followed - poetry, children's picture books, and teen action-mysteries - and this past year, her 88th, she published two more books, including At Home in Old Strathcona, the story of her family's 120-year history of residing in, and helping to shape, Edmonton's South Side.
She continues to write daily, producing poems, working on an adult mystery, and polishing some half-dozen manuscripts for publication as e-books. 
Mrs Molnar is exemplary as a positive creative force within our community and as an enthusiastic mentor and role model for students and aspiring writers. 
Community Building
Mr. Donald R. Milne
When Don Milne came to Edmonton, our city was on the verge of a new phase of development. While others erected buildings and paved roads, he set to work creating the infrastructure for family and social development, and the results of his effort can be seen in the many organizations he helped foster, including the Society for the Retired and Semi-Retired, which lives on now as Sage.
His commitment to community is evident in his many years of service with organizations like Scouts Canada, the United Way, the House Next Door, the Rotary Club, the YWCA, and the Canadian Club - and organization that promotes Canadian identity and unity. Equally significant is his work with the Richard Eaton Swingers and as a member of the pastoral care committee at Canterbury Foundation, both testaments to his incredible ability to build community through music.
Throughout his career, and well into his retirement, Don Milne has used his talents for music and social work to create opportunities for people to connect with each other and live better lives together.
Education
Mr. Larry Loyie
In his early 50s, Cree author Larry Loyie went back to school to achieve his dream of becoming a writer, determined to teach the world about Aboriginal history, culture, and traditions through story. Wanting to ensure that his message is heard by as wide an audience as possible, he began to write for children, and at age 69, published his first children's book, the award-winning As Long as the Rivers Flow.
He has since written books on a variety of subjects, and in November 2014, nearly 70 years after he left St. Bernard Mission residential school, he saw the publication of his ninth book, Residential Schools, with the Words and Images of Survivors. He has given more than 1600 school presentations with his partner Constance Brissenden, and is a long-time community activist in the area of learning and literacy. His message to students is always "Read, read, and read some more."
Through his writing, love of reading, and belief in the power of education, Larry Loyie honours his ancestors, enriches our community, and proves that age is no barrier to impact.
Environment
Mrs. Enneke Lorberg
Enneke Lorberg developed a particular interest in water issues while volunteering as the Outreach Coordinator with the Sombrilla Refugee Support Society - an NGO delivering development projects in Central America. This interest alerted her to what was happening with our own water resources in Alberta, and she soon became a water issues crusader, serving on the Steering Committee for Integrated Watershed Management for the North Saskatchewan Watershed Alliance, and developing a series of public forums, information sessions, conferences, and workshops for schools that address water scarcity and management in Alberta, and raise the issue of water as a basic human right for all.
Through her work and strong community presence, Mrs. Lorberg helps facilitate a deep appreciation of the urgency and importance of access to safe water.
Enneke Lorberg is a passionately engaged citizen, a committed social activist, a courageous fighter for social justice and human rights, and an avid protector of the environment. She is a powerful and respected presence who exemplifies what can happen when seniors work for a cause they care deeply about.
Health & Wellness
Mr. & Mrs. John & Louise Miller
Louise and John Miller are a dynamic team - when you see one, you see the other. Mrs. Miller co-founded the Spinal Cord Injury Treatment Centre Society (SCITCS) in 1987, and they both live by the SCITCS philosophy to Never Say..."Never". 
Together, with a dedicated board of directors, they have led a movement to improve the quality of life for thousands of individuals with spinal cord injury and their families across Northern Alberta and beyond.
The result of this partnership has been the acquisition of technologies often the first in Canada, which in turn has promoted cutting edge research. This has, and continues to, make tangible and meaningful differences in the health and well-being of Albertans with disabilities so they may live healthier, fuller, and more independent lives.
Becoming 'seniors' has by no means slowed them down or tempered their commitment: together, this remarkable couple - 52 years and counting - continue to bring considerable renown to our city through their significant leadership and hard work on behalf of people with spinal cord injury.
Public & Non-Profit
Mr. Lorris Williams
As an avid board member and advocate for iHuman Youth Society, Lorris Williams has been equally at home with high level decision-making as he is swinging a hammer. Few people recognize that his many hours of hard work are entirely given as a gift to the organization.
Mr. Williams is committed to building iHuman's financial sustainability, and he has worked doggedly to establish a funding legacy for the organization. Most recently, he helped pioneer a collaborative private-public-charitable partnership to build a state of the art home for iHuman. He is a humble man with a creative heart who possesses an incredible clarity of how the use of art can help youth find their own identity, become more empowered, and create their own compelling future.
His leadership and wisdom, creative spirit and passion, stewardship and advocacy have not only made a difference to iHuman the organization, but to the individual lives of the young people it champions, and exemplify the power we all have to shape our city into a more caring and beautiful place for everyone.
Science & Technology
Mr. Nick Malychuk
Nick Malychuk has a passion for engineering, and he has been sharing his enthusiasm for the profession with school children in the Edmonton area for close to 20 years. As a dedicated volunteer for the Association of Professional Engineers and Geoscientists of Alberta (APEGA), he has put hundreds of miles on his science cart of engineering materials, giving children the opportunity to experience science in everyday life and encouraging them to consider science-related careers.
Since joining the APEGA Outreach program in 1996, Mr. Malychuk has made visits to 721 classrooms, reaching 16,931 students. In the 2013/14 school year alone, he visited 43 classrooms, explaining complicated scientific principles by using fun visuals and individual science projects for students to work on. He is on a mission to fire the imagination of students in the fields of science, engineering, and technology.
Throughout his career, Mr. Malychuk was a dedicated professional, role model, and mentor. That dedication has far from wavered in his retirement years, where he exemplifies the powerful impact that older adults can have on younger generations.
Social Justice & Peace
Mr. Gurcharan Singh Bhatia
Gurcharan Singh Bhatia is a veteran advocate for civil rights and multiculturalism in Edmonton, and has achieved much since reaching the age of 60. In 1997, Judge Bhatia was awarded the Order of Canada for community service. In 1998, he chaired the International Conference celebrating the 50th Anniversary of United Nations Declaration for Human Rights in Edmonton, which was attended by Archbishop Desmond Tutu.
Each year, students at NorQuest College are awarded scholarships in his name for demonstrating leadership and citizenship qualities.
His passion for human rights extends to his involvement as a founding member of several organizations, including the Canadian Multicultural Education Foundation and the International Association of Citizens for a Civil Society, which organizes Daughters Day each year to focus on the elimination of gender inequality, violence, and discrimination against girls and women.
Judge Gurcharan Bhatia has been a visionary all of his life, and that vision has certainly not diminished with age. His continued commitment to social justice is an outstanding example of the important difference that older adults make in our community.
Sport and Leisure
Mr. Art Brochu
When Art Brochu learned about the work of the Children's Wish Foundation, he seized the opportunity to keep a promise that he had made to himself during his 24-year career with the Princess Patricia Canadian Light Infantry: that one day, he would do something that could ease the pain of children.
While he has long mentored youth - as a hockey coach and volunteer for the cadets and Boys and Girls Clubs - he was particularly inspired by the Foundation's work to help wishes come true for children coping with life threatening illness, and set the ambitious goal of cycling across Canada to raise funds and awareness for them.
On May 1, 2014, 70 year-old Art Brochu began his journey across Canada. On August 15 - 76 days and 9285 km later - he cycled into St. John's Newfoundland, having averaged 122 km a day at 26.1 km/hour. Along the way, he not only raised over 30,000 dollars, but spread his message to communities far and wide about the big power in a small child's wish.
Transportation
Mr. Larry Pempeit
Larry Pempeit is passionate about making Edmonton a city for people of all ages and abilities. His vision is of a society in which all people are recognized and valued, and he has worked as a tireless innovator and advocate for a more inclusive Edmonton. His understanding that independence, inclusion, and engagement require accessibility has profoundly impacted transportation in our city.
He has advocated for improved inclusivity at the Edmonton International Airport, with the Edmonton Disabled Adult Transportation System (DATS), and with the parking placard and curb programs. Just five years ago, there were no accessible taxis on Edmonton streets, and Mr. Pempeit provided the leadership needed for taxi companies, consumers, and city officials to reach an agreement on how to best provide this service. Today, there are 60 licenses for accessible taxis.
While Mr. Pempeit's work has focused primarily on the needs of people with spinal cord injury and mobility issues, his accomplishments have had an impact on every Edmontonian by contributing to a city where all people, regardless of age or ability, are valued.