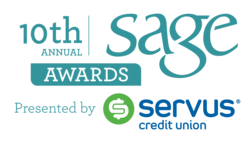 Congratulations to the 10th Annual Sage Award Recipients!
 Mr. Armand Baril - Arts & Culture
Armand Baril is an inspiration to seniors in the Edmonton community. From 2001 to 2014, Mr. Baril directed the Edmonton School Boys Alumni Band. His focus for the band was a cultural, recreational and educational activity for seniors. His leadership of senior amateur musicians in choirs and bands serves to highlight his passion for music and the arts in our community. Mr. Baril's gift for creativity and passion for music also extends into the many community endeavors with which he is involved. His mentoring presence and unending passion for music has had a positive and continuing influence on the arts in the Edmonton community. Armand Baril is a fine example of how advancing years need not be an impediment to creativity and service.
Mrs. Mary Fung - Community Building
Mary Fung has a boundless passion for seniors in Edmonton, illustrated by her community spirit, volunteer commitments and relentless determination. She has volunteered on many Boards and Committees that range from celebrating Edmonton's diversity to addressing emergent needs. Mrs. Fung has received numerous awards, such as a Centennial Medal from the Province of Alberta, and an "Inspiring Woman's Award" at the 2010 International Women's Day celebration. Mrs. Fung is determined to ensure that seniors in the community are engaged in civic life, and her contributions to the senior sector are immense. Mary Fung's passion and dedication to ensuring Edmonton is a city that values, respects, and actively supports the safety, diversity, and well-being of seniors has made her much deserving of recognition.
Mrs. Sheila Clifford-MacKay - Education
Education is an important part of Sheila Clifford-MacKay's life, and everywhere she goes, she teaches and learns. Her work as an educator and leader is impressive, and her passion for education is evident in her ongoing academic career. Mrs. Clifford-MacKay is active with the Edmonton Seniors Coordinating Council, South East Edmonton Seniors Association, and the Edmonton Retired Teachers Association, holding both committee and executive positions. During her tenure as President of the South East Edmonton Seniors Association, membership increased substantially and fundraising activities broke all previous records. Sheila Clifford-MacKay's innate ability as a capable and much-loved leader coupled with her passion for education has had an immense and positive impact on everyone privileged to know her. Click here to learn what inspires Sheila Clifford-Mackay!
Mrs. Margaret Reine - Environment
Margaret Reine is enthusiastic, reliable, action-oriented and a dedicated leader in environmental protection, enhancement and stewarding. Since reaching the age of 60, Mrs. Reine has volunteered extensively with many natural history groups as well as the Edmonton and Area Land Trust (EALT), to which she lends her knowledge, expertise, leadership and passion for the environment. Since turning 60, Mrs. Reine has received a number of awards for her contributions. Mrs. Reine's passion for educating individuals on Edmonton's biodiversity is illustrated by her participation in many community initiatives where she is looked to as an expert and mentor. Marg Reine exemplifies the values of one who acts for our environmental benefit and her work and generous donation of time has contributed immensely to the Edmonton community. Click here to learn what inspires Margaret Reine!
Dr. Garnet E. Cummings - Health & Wellness
To say Dr. Garnet Cummings is passionate about his work is an understatement. Through his strong leadership skills and clinical background as an Emergency Physician, coupled with his own personal experiences, he has made a difference in the lives of many people. Not only did Dr. Cummings take a leadership role for the development and the implementation of the STARS North program, he founded the pioneering Brain Care Centre (BCC). Dr. Cumming's outreach activities and connections with the community have contributed to these organizations' continued success. Dr. Cummings' strong focus on research, education and accident prevention has enabled the BCC to be a leader in the field, province wide. As a senior leader, he continues to make a difference in the lives of those who have suffered brain injuries, to their families that care for them, and the professionals within all health disciplines that support them. Click here to learn what inspires Garnet Cummings!
Ms. Barbara Blackley - Public & Non-Profit
At 92, Barbara Blackley is a role model for women and for seniors. She has been a member of the Canadian Federation of University Women since 1951, and has continued to participate in club initiatives and activities. Her guidance as a member of the Past Presidents' Circle has been an invaluable historical resource and ensures the club remains connected to the community. Barbara Blackey's lively interest, extraordinary passion and commitment to the education and well-being of women and children in Canada, as well as her work towards meeting the needs of all citizens, has encouraged the club to strive to make the world a better place. Click here to learn what inspires Barbara Blackley!
Dr. Fred Otto - Science & Technology
Dr. Fred Otto began his professional journey as a professor in the Faculty of Engineering at the University of Alberta and because of his innate ability as an educator, mentor, and leader, progressed to Dean of the Faculty in 1985. Dr. Otto has strong ties to the community and actively volunteers on various committees and boards, including those of the Association of Professional Engineers and Geoscientists of Alberta (APEGA), the Canadian Society of Senior Engineers, the Alberta Institute of Agrologists, and the Canadian Engineering Accreditation Board. Dr. Otto has published over ninety technical publications. He has received numerous awards and recognition from APEGA for his contributions to the engineering profession. In 1998, he was awarded the Donald L. Katz Award by the Gas Processors Association for outstanding accomplishments in gas processing research, technology and excelling in engineering education. Through his achievements and generosity of time in the education and promotion of engineering and science, Dr. Fred Otto exemplifies the values of a senior leader in the Edmonton community.
Mrs. Mufty Mathewson - Social Justice & Peace
Mufty Mathewson's lifelong passion has been storytelling and capturing life in her photography. She raises awareness about social issues, vulnerable populations and overcoming disability through her artistic talent, passion, and compassion. As a born leader, Mrs. Mathewson has been inspiring others with her energy, creativity, broad-reaching interests, skills, and sensitivity around many of her passions. She sees unexpected opportunities to use photography to educate and capture fleeting moments or to create commissioned portfolios of work. Mrs. Mathewson uses her talents to improve the lives of others and make an imprint for social change. Her latest project is the REDress Photography Project, raising awareness for the 1,181 Murdered and Missing Indigenous Women. The impacts of her contributions have been felt locally, provincially, and internationally. Mufty Mathewson leads by example with profound sensitivity to the needs of others. Using photography, Mufty captures and celebrates life.
Dr. Ross Wein - Sport & Leisure
Dr. Ross Wein has used his intellect, experience, charisma, and passion to create the Alberta Abilities Lodges Society (AALS) which provides the elderly and those with reduced mobility access to nature. Dr. Wein, his family, and hundreds of others raised funds to purchase the 480 acre Coyote Lake Lodge, and his efforts have secured donations for equipment and modifications to the buildings. In addition to this, he recruited volunteers and also set up an endowment with the Edmonton Community Foundation to ensure funding would be provided for individuals to travel to the lodge. This fund ensures that cost does not impede individuals from accessing the property's services. Dr. Ross Wein's devotion to emergent issues around inclusion and accessibility has had a substantial impact, as his accomplishments will have a positive impression on families for years to come.
Mr. Louis Berlinguette - Transportation
Louis Berlinguette's selfless, gentle, open and loving dedication to others is demonstrated by his passion to assist seniors and others who need transportation in one form or another. Mr. Berlinguette is active within his community and passionate about helping anyone in need. His boundless generosity is illustrated by his many acts of service, from driving seniors to church and special events, to using his truck to provide general maintenance. Mr. Louis Berlinguette is active in anticipating and envisioning what people need and cheerfully providing the means for them to get it. His extraordinary passion to assist others has made a positive difference in the lives of hundreds of people who have had the opportunity to meet him.