Congratulations to the 11th Annual Sage Award Recipients!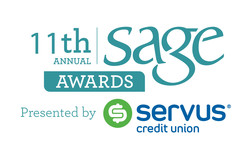 The 11th Annual Sage Awards, presented by Servus Credit Union, were held on May 10, 2017 and honoured the achievements of outstanding seniors and their invaluable contributions to the vibrancy of our community.
To view photos from the event, click here. Thank you, Robin Szala, for the photography at the 2017 Sage Awards.
Sage Award Nominees
Ms. Anna Attademo
Mrs. Bernice Rempel
Mr. Don Briggs
Mrs. Eleanore Frend
Ms. Louise Stratulak
Dr. M. Dale Wilkie
Ms. Nona West
Mrs. Terri Martineau
Mrs. Vivian Kwan
Sage Award Recipients
Arts & Culture
Ms. Rae Hunter
Rae Hunter is a passionate, determined, creative leader who shares her gifts and talents and love for nature with the community. In retirement, she is still teaching, mentoring, exhibiting and diversifying traditional basketry forms. Rae published the Willow Melon Basket Manual. She is truly amazing in her ability to weave magic out of the ordinary and explore new materials in her work. Her contributions to culture during 30 years of work with Alberta Culture, Youth and Recreation and to Alberta Agriculture are noteworthy. By pioneering ideas and methods which better the lives of many people – she has garnered the respect and admiration of all of her professional and artistic colleagues.
Strong, visionary women like Rae hold the torch for generations to come. We, in Alberta, are indebted to her for sharing her artistic gifts and talents with us. 
Community Building
Mr. Evert Poor
Mr. Evert Poor embodies all of the qualities of a community leader, and his passion for giving back is exemplified by the generous giving of his time. He sits on the TELUS Community Ambassadors National Council, which supports 23 national clubs and over four thousand four hundred members. He works to refine processes, share best practices and encourage retired and current TELUS employees to further engage with their local communities, and to give where they live.
Mr. Poor also sits on the Board of Directors of a number of organizations that increase the knowledge and awareness of Alberta's heritage. He is in his seventeenth season as a Historical Interpreter and Volunteer Captain at Fort Edmonton Park where he shares his indigenous family history.
Giving back to the community is part of his family's values and his indigenous community's culture. Mr. Poor is a champion and a leader who strives to make our communities more diverse and engaging.
Education
Mrs. Phyllis Arnold
Author, educator, publisher and historian, Phyllis Arnold, continues to use her considerable skills and knowledge to contribute to the community in her senior years. Through her learning foundation she has provided the funds for thousands of Edmonton children to attend the Edmonton and District Historical Society's (EDHS) "History Centre" and benefit from their "History in the Classroom" program. In addition to this, the EDHS published a student resource written by Phyllis titled The Fur Trade in the West to commemorate Canada's 150th Birthday in 2017. Not only is this book an amazing educational resource for students to learn about Canada's history, it recognizes the immense contributions of Indigenous people to the fur trade.
Since age 60, Mrs. Arnold has contributed to other endeavors and has received awards which recognize her leadership and creativity. She has also been recognized as one of the University of Alberta's 100 outstanding alumni. Phyllis Arnold's many commitments to the preservation of the history of Edmonton and Alberta through her excellence in research, writing, publishing, and educating make her most worthy of a Sage Award.
Environment
Capt. (Ret'd) William Dickson
William Dickson has immersed himself into activities which benefit his surroundings and his community as a whole. He began his military career in 1957 and within a very short time, began what would be a life time of seeing avenues where he could establish and improve his community. In his senior years, William has been an active organizer and fundraiser towards ventures that have highlighted the accomplishments of current and past military communities. Most notable was his unwavering efforts in establishing the Canadian Airborne Memorial Cairn in the Village at Griesbach area of Edmonton. He was also instrumental in the street naming signs of military units and personnel that had been stationed at Griesbach, which were placed within the different areas of the community.
Thanks to William's passion, determination, creativity and leadership, the Griesbach community will always be remembered as a respected military establishment for the men and women that served there.
Health & Wellness
Mr. Gino Ferri
At age 65 (2003), Mr. Ferri shifted his focus from involvement in numerous technical organizations, such as CSC, to volunteering with such organizations as YMCA, Alberta College, NAIT, NASI, and the Edmonton and Alberta Autism Societies.
Mr. Ferri considers himself very lucky for the numerous awards he has received, which include: ASEA Gino Ferri Community Builder Award (2007), Rotary Club of Glenora Integrity Award (2010), CEA Lieutenant Governor's Award for Distinguished Service (2013), Autism Canada Lieutenant Governor's Diamond Jubilee Award (2013), Joe Thompson Award for Industry Advancement of Cold Climate Construction (2013), and the ECA Claude Alston Lifetime Achievement Award (2014)
Mr. Ferri retired in 2016 as Principal at Read Jones Christoffersen after 51 years. He still does committee work with Glenrose Hospital, Act Now for Adults with Autism, Foundation Board of CASA, and the 2017 Opening Doors for Autism Gala.
Mr. Ferri is a tireless advocate for a very vulnerable group of Albertans. His exceptional achievements and contributions will leave a legacy with a profound impact far into the future.
Public & Non-Profit
Ms. Agathe Joly
Agathe Joly's passion for helping the less fortunate is truly inspiring. For over two decades, Agathe has been an integral part of the Bissell Centre's work alleviating poverty in Edmonton. She is the co-founder of the haircutting program which offers free haircuts and beard trimmings to people living in poverty in our community. In her role managing the haircutting program, she has demonstrated unparalleled leadership, dedication and determination. She has worked tirelessly to ensure the ongoing success of the program, developing creative solutions to every challenge it has faced along the way. Apart from her service at the Bissell Centre, Agathe has also volunteered for CapitalCare Dickinsfield and McConnell Place North for over 15 years. Her volunteer contributions have touched the lives of countless people.
Agathe is a shining example of why older adults are so vital to the survival of non-profit organizations like the Bissell Centre and to the betterment of communities everywhere.
Science & Technology
Mr. John McDougall
John McDougall's career endeavors have involved innovation in business and technology. John was an imaginative and vigorous leader for his entire tenure – well into his sixties – as President and CEO of the Alberta Research Council (ARC). With vision and enthusiasm, he reinvigorated the culture of ARC, making it more relevant and focused on innovation for the Alberta economy of the 2000's. Providing strong and dynamic leadership into his early seventies, John was appointed President of the National Research Council (NRC). Once again, he set about improving the line of sight between investment in science and technology, and the return on investment from successful innovation in the Canadian economy.
John has volunteered for over twenty community organizations, providing leadership as Director, Co-Chair or Chair in more than half of those bodies. Of the more than two dozen awards and honorifics given to Mr. McDougall over his career, more than one-third were bestowed after his sixtieth birthday. Mr. John McDougall has provided remarkable leadership for Canada, for Alberta, for his community and for his profession.
Social Justice & Peace
Ms. Marilyn McSporran & Ms. Kay Douglas
Marilyn McSporran and Kay Douglas are committed to the process of education towards reconciliation and the achievement of justice for Indigenous peoples. Prompted by the Truth and Reconciliation Committee Calls to Action, and their passion for social justice, they volunteered to be facilitators at St. Albert United Church. They were trained to facilitate the Blanket Exercise – an interactive tool to teach 150 years of the history of Canada from an Indigenous perspective. Together, Marilyn and Kay, in partnership with community members, presented 16 Blanket Exercises in 2016 to a total of 500 people, including students, teachers and the RCMP. Kay and Marilyn also organized an event to bring awareness to the missing and murdered Indigenous women in Canada.
They are members of the Grandmothers of Alberta for a New Generation which raises funds to assist African grandmothers who are raising grandchildren due to their parents dying of AIDS.
Kay and Marilyn are deeply committed to the work of engaging and educating people in their community to bring justice, peace and reconciliation. In their 80's, these two women are making a substantial and lasting impact in our community.
Transportation
Mr. Rudy Kornelsen
Rudy Kornelsen has volunteered with Lifestyle Helping Hands Seniors Association (LHHSA) since 2004, where he has just completed 1,500 hours of volunteer service. Rudy has provided support in multiple ways through the organization's seniors assisted transportation program, from volunteer driving, lending a hand or a quiet ear to riders, distributing literature, and recruiting other volunteers.
Rudy has been deeply committed to and involved in promoting seniors' transportation in the Capital Region. The benefits of providing door-through-door transportation to mobility challenged and aging seniors is all encompassing. It runs the gamut through impacting social isolation, increasing community engagement, and improving quality of life as one ages. Rudy's dedication to this cause is truly making a difference to seniors in our community and has earned him the respect and gratitude of everyone who knows him.