Congratulations to the 12th Annual Sage Award Recipients!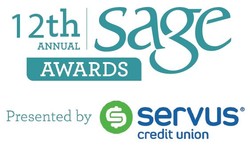 The 12th Annual Sage Awards, presented by Servus Credit Union, were held on Tuesday, May 8, 2018, and honoured the achievements of outstanding seniors and their invaluable contributions to the vibrancy of our community.
To view photos from the event, click here. To view the media release, click here. 
Sage Award Nominees
Dr. Judy Baker
Mr. Robert Butlin
Mr. John Chomiak
Ms. Marilyn Gaa
Hon. Laurie Hawn
Mr. Punch Jackson
Mrs. Jenny Kolada
Mrs. Crispin Lee Kontz
Mrs. Deckla Lindgren
Mr. Neil Milner
Mr. Reginald Norby
Mrs. Jane Norby
Mr. John Scotvold
Mr. Henry Stainthorp
Mr. Richard Tansey
Dr. M. Dale Wilkie
Ms. Joan Wright
Sage Award Recipients 
Arts & Culture
Mr. Kevan Lyons
Kevan Lyons' passion for poetry and people shine through his creativity, generosity, and leadership. Known as The Poet of Churchill Square, Mr. Lyons has inspired countless children through his commitment to literacy, with regular public appearances at over 80 schools throughout Edmonton, including the City Hall School. His published work of poetry includes reflections and insights into his own life experiences with grief, subsequent addiction, and homelessness. Because of his words, the homeless community has a hero – one who exemplifies hope and the promise of a better tomorrow. His creative gift of writing transformed his own life, and now helps to heal and inspire others.
In his senior years, Mr. Lyons continues to enrich our community: his creative work and promotion of the arts, advocacy for literacy, and empathy for others make him truly deserving of a Sage Award.
Community Building
Ms. Jeanne Frances Murray
Jeanne Murray has been building community in South Clareview for almost 42 years, and recently took on the community's building itself, driving a major renovation from vision through to fruition. She is a dedicated and determined volunteer who works tirelessly to ensure that everyone, regardless of circumstance, can take full advantage of all her community has to offer.
A skilled neighborhood connector, community leader, advocate, fundraiser, and creative problem-solver with the South Clareview Community League, Ms. Murray recognizes how important older adults are to the wellbeing of any community, and is currently championing the new Seniors Hub at South Clareview Community League. She has dedicated time to South Clareview Community League in countless ways, including casinos, bingos, facility maintenance, and serving on the Board.
She is a local hero whose willingness to do what needs to be done, when it needs to be done, reveals a passion for making the community a better place. Ms. Murray's dedication is an excellent example of how seniors continue to build our city.
Education
Dr. Michael Alpern
Dr. Michael Alpern uses his passion for education to mentor young people, including developing a curriculum to teach workplace safety to junior and senior high school students. He was a founding member of Job Safety Skills Society and helped the non-profit organization to become a leader in preparing youth for entrance into the work world. Since retirement at age 78, Dr. Alpern has been devoting almost full-time hours to executive leadership positions on Boards for multiple charitable and non-profit organizations, including the Beth Israel Synagogue, the Edmonton Seniors Coordinating Council, Jewish Family Services, the Alberta Safety Council, and the Edmonton Hebrew Burial Soviet.
Dr. Alpern has a passion for good governance and loves the challenge of helping organizations to create policies that provide a strong foundation for Board and staff. He educates and leads through his wealth of experience and expertise. By sharing his skills and talents, he has modeled dedicated community service and mentorship that will benefit our community indefinitely.
Health & Wellness
Mr. Ted Rempel
Ted Rempel has been volunteering with the Glenrose Rehabilitation Hospital (GRH) for over 23 years as a Sunday Services volunteer, Patient and Family Advisor, Story Reader, and Patient and Family Ambassador. While volunteering in Sunday Services, Mr. Rempel was responsible for greeting and assisting patients in attending monthly services, escorting patients to and from service, visiting, assisting with hymn books, organizing the services and leading the services, including the meditations once or twice a year. His commitment to the spiritual health of patients of GRH has been a key element to their overall wellbeing and recovery. Seeking additional opportunities, Mr. Rempel began volunteering in the pediatric department as a Story Reader, offering parents short respite by reading to their child, and then as a Patient and Family Ambassador, where his kindness and hospitality created a warm welcome to families in the pediatric waiting room.
Ted Rempel is the warm welcome and caring spirit that adds so much to the experience of patients, and those patients and families who frequent waiting areas of the Glenrose Rehabilitation Hospital.
Public & Non-Profit
Mrs. Sharon Brown
Volunteering has always been a part of Sharon Brown's life and she sees it as a personal responsibility. In 2007, at the age of 63, Mrs. Brown became involved with Callingwood-Lymburn Community League. She volunteers in her community with schools, sports associations, her church, and Kites Over Callingwood. In addition, she started volunteering in the kitchen at the Westend Seniors Activity Centre (WESAC), was then elected Vice President, and subsequently served as President from 2013-2016. As Past President, she now sits on three of WESAC's committees, and is constantly working to serve the community better and improve the quality of life of those around her.
Mrs. Brown's energy, strength, and drive to serve others and give back to her community is an example of why older adults are so vital to our communities and to non-profit organizations everywhere.
Science & Technology
Dr. Margaret-Ann Armour
Since retiring in 2005, Dr. Margaret-Ann Armour has made immense contributions to the community, taking a lead role in the advancement of women in science and engineering, and acting as a mentor and role model for young women entering the sciences. She acted as Co-Chair for the Women in Science, Engineering, Trades and Technology Working Committee from 2004-2010, and has been Chair of the Board of Canadian Centre for Women in Science, Engineering, Trades, and Technology since 2010. A keen advocate for safety and the environment, Dr. Armour is a Board member of the Pacific Basin Consortium for Environment and Health and is a member of the Engineering Change Lab, a national support network for leadership within engineering. For these, and many more leadership roles, Dr. Armour has received multiple awards, including the 2005 Montreal Medal from the Canadian Society of Chemistry, the Order of Canada in 2006, and the 2012 Queen's Diamond Jubilee Medal for significant contributions and achievements by Canadians.
This is just a sample of the work that Dr. Armour has contributed to our community, providing remarkable leadership for Canada, for Alberta, and for her profession.
Social Justice & Peace
Mr. Satya Brata Das
Satya Brata Das is deeply committed to human rights as a way of life. Mr. Das spent the last quarter of the 20th century as a journalist, serving more than 12 years on The Edmonton Journal Editorial Board, as a foreign correspondent, and as a columnist. The 21st century took him to a career as a policy guru and strategic advisor to leaders. The author of three best-selling books, Mr. Das' work in international human rights includes advising the UN in establishing and implementing peace-building. Locally, he has worked to intermingle the many cultures Edmontonians share. Mr. Das advised on more than 50 major files for government, integrating the political, economic, societal, and cultural dimensions of policy challenges. Two of Mr. Das' books – The Best Country: Why Canada Will Lead the Future and Green Oil: Clean Energy for the 21st Century? – continue to influence public policy and societal development. He is currently writing his fourth book, Us, updating Gandhi's philosophy for our times.
His civic life, including service on more than 10 volunteer boards, and commitment to a more vibrant and inclusive city, have earned him a Sage Award.
Truth and Reconciliation 
Rev. Rick Chapman
Since his sixtieth birthday, Reverend Rick Chapman has advanced the Truth and Reconciliation process at the Inner City Pastoral Ministry (ICPM). 47% of the congregation at ICPM are Indigenous, and most have attended residential schools themselves or are intergenerational survivors, and there was an unwavering need to create a safe space there for reconciliation and healing. Reverend Chapman was instrumental in helping to create that space, by involving the Indigenous community in his ministry and developing the position of an Oskapewis (Cree for "helper"), to engage with the Indigenous community, and in Truth and Reconciliation efforts with the non-Indigenous community. He is also a trailblazer in the inner city, reaching out to other inner city agencies and to leaders in the Indigenous community to develop reconciliation initiatives.
Reverend Rick Chapman has received a Sage Award for making tangible actions toward recognizing the Truth and Reconciliation process with Canada's Indigenous peoples, and for his work embracing Edmonton's rich Indigenous heritage.