Congratulations to the 13th Annual Sage Award Recipients!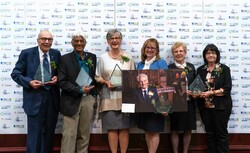 The 13th Annual Sage Awards, presented by Servus Credit Union, were held on Thursday, June 6, 2019, and honoured the achievements of outstanding seniors and their invaluable contributions to the vibrancy of our community.
Sage Award Nominees
Ms. Alene Carter
Mr. Alphons (Al) Hendriks
Ms. Barbara Argue
Beacon Heights Seniors Club
Mr. Christopher Ashdown
Ms. Crispin Kontz
Ms. Friedel Waldbuesser
Ms. Ida Richards
Ms. Karen Hebert
Mr. Lawrence McKnight
Ms. Margaret Russell
Ms. Marion Barry
Ms. Rhonda Eidelman
Mr. Ron Nichol
Ms. Shameem Siddiqui
Sage Award Recipients 

Health & Wellbeing
Mrs. Janice DeRoche
This recipient of the 2019 Sage Award for Health & Wellbeing has been supporting survivors of sexual violence and abuse since 2005 through her volunteer work with the Support and Information Line at the Sexual Assault Centre of Edmonton. Mrs. Janice DeRoche began this volunteer work at a time when sexual violence was not widely afforded the attention it deserves. Almost 15 years later, she continues to offer guidance and support to survivors who reach out to the Sexual Assault Centre to begin their healing journey. In addition to her steady presence on the Support Line, Mrs. DeRoche has begun mentoring new volunteers, standing out as a humble, relatable, and accessible mentor to those just beginning this emotionally taxing work. She has made an incredible impact on the staff, and built confidence in other volunteers through her deep commitment to the survivors and their supporters.
Mr. Peter Dziedzic
Peter Dziedzic is known for his warm smile and caring heart, and is a living example of what it means to put the needs of others above your own. For the past fourteen years, he has contributed 2,540 hours as a volunteer at St. Michael's Extended Care Centre Society and the Good Samaritan Dr. Gerald Zetter Care Centre. Mr. Dziedzic helps the residents of St. Michaels attend worship services every Sunday and on religious holidays, while his Thursdays are spent supporting the Ukrainian group on the dementia unit of the Dr. Gerald Zetter Care Centre. Mr. Dziedzic also volunteers at the General Hospital, St. Josaphat Ukrainian Catholic Cathedral, the Ukrainian Catholic Brotherhood of Canada, and various community groups. His dedication over many years and across multiple organizations is a clear demonstration of his commitment to the health and wellbeing of the people in our city.
Innovation
Mrs. Anita Lunden
Anita Lunden is known for the huge impact she has on every community project with which she becomes involved. During her 10 years of serving on the Avonmore Community League board, she has initiated a variety of well-attended programs. Her initiatives for the community are largely focused on engaging the many seniors of Avonmore, something that had not been achieved before. Mrs. Lunden's creativity and innovation are best demonstrated by a series of events she hosted which brought in seniors to share their wisdom with other members of the community. These events were themed "Honoring Our Past", "Growing Together", and "A Say in Our Future", and focused on what it means to have community vision, both in the past, present, and future. She has also been involved with the non-profit organization Ten Thousand Villages for 12 years, as a volunteer and chair of the board for the Edmonton branch, as well as sitting on the board of the National branch.
Inspiration
Mrs. Fran Cuyler
Fran Cuyler has had a large influence on the art community in Edmonton, through both her personal work, as well as her teaching. As a snow and ice sculptor, Mrs. Cuyler's work has been featured on the world stage as well as at many local Edmonton festivals, such as the Silver Skate Festival and Ice on Whyte - where she was also a judge for 9 years. For 12 years, she has donated unique ice carvings to the Stollery Children's Hospital's Snowflake Gala. Her personal work with clay and bronze has been shown widely across the province and beyond, and she has taught and inspired countless aspiring artists – from beginners to professionals. Mrs. Cuyler was a founding member of the Sculptors' Association of Alberta and continues to provide insight and support to members in many ways. With humility and grace, Mrs. Cuyler has enriched the art and culture of our city through her work and extensive community involvement.
Mr. Gerald Douglas "Bud" Salloum
Gerald Douglas "Bud" Salloum has undertaken a lifetime of philanthropic and community initiatives in his senior years. His involvement is varied, from working with the Al Shamal Shriners Foundation and the Telus World of Science, to a longtime commitment to the Edmonton Police Foundation, implementing projects such as a fundraising half-marathon and raising money for the purchase of the first Air 1 Helicopter. For 25 years, Mr. Salloum was the co-founder and president of the Edmonton Caring Clowns, who visit children staying in the hospital. "Buddy the Clown" recently retired, but the same cannot be said for Mr. Salloum who currently works full time at the Salloum Wealth Management Group. He is known by many for his humour, tremendous leadership, determination, and ability to bring people together. His lengthy list of contributions to community groups is impressive, but to know Mr. Salloum is to know that the positive energy and laughter he shares is what truly makes his impact remarkable.
Social Justice
Mr. Vasant Chotai
In his professional career, as well as his work with various non-profit organizations, Vasant Chotai had one central focus: social justice for those who are struggling, be it the working poor, new immigrants, Indigenous people, or those who are discriminated against because of their gender, ethnicity, or beliefs. Since his retirement from his role as a senior manager with the Government of Alberta, Mr. Chotai has continued to commit himself to the fight for social justice. He sits on several boards, including the Canadians for a Civil Society, Public Interest Alberta, and the Quality of Life Commission. Previously, he was President of the Edmonton Social Planning Council, and sat on the boards of the Christmas Bureau and Vibrant Communities Edmonton. Mr. Chotai's personal philosophy is: To advocate for the vulnerable; to help those who have been left behind; to support those who need to move up; and to build a compassionate community based on human rights and social justice.
 Sustainability
Mr. Adrian Jones
Adrian Jones has a passion for the natural world that is immediately obvious upon meeting him. He has volunteered extensively with the Edmonton and Area Land Trust, The Edmonton Native Plant Society, and the Edmonton Nature Club. His involvement with these groups is varied, and he is known to enthusiastically contribute to almost any project in any way he can. For the Edmonton Area Land Trust, Mr. Jones has cleaned nest boxes, installed bat boxes and loon platforms, pulled noxious invasive weeds, and most significantly, built custom habitat supplements such as bee nesting sites or bee hotels. Mr. Jones is not only willing to work hard on the ground, but also contributes to public education by speaking about the importance of protecting the environment and rallying for causes. Mr. Jones' volunteer work for the Edmonton Area Land Trust in particular has shown an astounding commitment to minimizing negative impact on the environment, increasing the welfare of wildlife, and preserving important natural elements and habitats for wildlife.