President's Appeal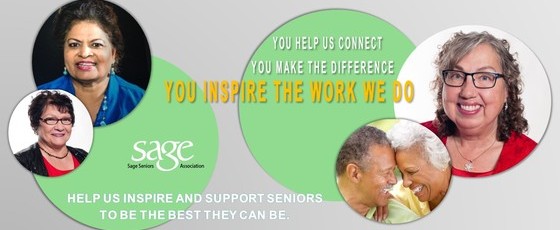 Dear FAMILY and FRIENDS of Sage,
The vision of a community where all seniors are valued and have the opportunity to live according to their beliefs, abilities, and aspirations is not ours alone.
It is a shared vision that has emerged over time from our members, clients, donors, partners, and volunteers. 
From you.
We want all seniors to be celebrated for their unique perspective, for their potential, and for their contributions - past and present. But we know that not all seniors are being heard, understood, respected, and supported.
We're here to help when help is needed, and to encourage seniors to contribute as much as possible wherever possible, so that they can continue to fulfill their potential.
Every senior's story is different, and as a result, our work at Sage takes many forms. Some seniors are looking for meaningful social connection and mental or physical stimulation. Others have come to us because they find themselves in unfamiliar territory, or in the midst of a short-term crisis. Others have more complex needs that require longer, more sustained support.
We all age differently, and we all - at some point in our lives - will need to ask for help from others. Our job at Sage is to be there for seniors when they do.
Every day, hundreds of seniors, their families and caregivers, their healthcare and homecare providers, and other professional advisors, turn to Sage.
They need us. They need you.
As a registered charity, Sage depends in part on donations to meet the needs of seniors.
This year, I am going to ask you to do what I do: become a Silver Threads donor. The Silver Threads program is based on the idea that we are stronger together.
Silver Threads donors set up a monthly, pre-authorized gift of $25 or more that Sage can count on and use to meet the changing needs of seniors across the city of Edmonton and beyond. Call us at 780-423-5510 to learn more.
Each gift is a thread that can be woven into a greater, stronger whole.
Together, Silver Threads donors help us sustain important programming over time, and give us the ability to respond to the changing needs of seniors in timely, meaningful ways.
Help us stay strong. Become a Silver Threads Donor.
Thank you for your involvement and support of Sage programs and services. We wish you and yours all the best this holiday season.
With gratitude,
Barb Burton
Volunteer Board Chair, Member, and Donor