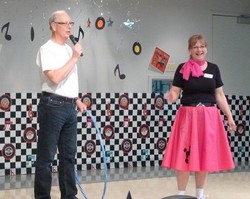 One of the many benefits of volunteering at Sage, are the two annual Volunteer Appreciation Events. Held in April and December, these events are an opportunity to recognize and thank volunteers for their hard work, dedication and support. At the events, a delicious lunch is served by staff followed by some fun entertainment.
We love our volunteers!
In April we celebrated the talent and commitment of our many volunteers with a "Back to the 50s" event. The decorations took us back to the soda shop era, Mad Cat Swing entertained us with some amazing dancing, and Chef Roman helped top off the event with cheese burgers, onion rings, and ice cream sundaes for dessert!
Click here to see a slide show of the event!