Donate to Sage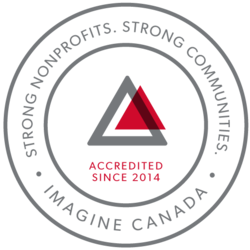 "Those of us who make a donation to Sage do so to ensure that Sage continues to maintain its excellent programs and activities for seniors."
For more than 43 years, Sage donors have helped to ensure that seniors and their families can access essential, high quality services and resources. Your support has had an impact on the lives of the people we serve and has been critical in Sage's ability to meet the needs of our community.
Sage is partnering with our donors so that we can continue to grow and develop to meet the needs of seniors. Your gift translates into services for our most at-risk and vulnerable seniors and allows for the delivery of services and programs that would otherwise not be available.
Sage is proud to be accredited through Imagine Canada's national Standards Program. The Standards Program is a Canada-wide set of shared standards for charities and nonprofits designed to demonstrate their compliance in five fundamental areas: board governance; financial accountability and transparency; fundraising; staff management; and volunteer involvement. It helps organizations mitigate risk by ensuring that staff and volunteers understand and meet their legal, financial and fiduciary responsibilities. 
Online donations to Sage can be made through CanadaHelps.org.
Find out how to join our Silver Threads donor program by clicking here.
To make a donation by mail or in person, click here for the donation form.
Donations can be mailed to:
Sage Seniors Association 
Attn: Janet Askin
15 Sir Winston Churchill Square
Edmonton, Alberta T5J 2E5
To make a gift in-kind (i.e. toiletries for the Safe House residents), see the Safe House Wish List for a list of items that are currently needed.
"I felt like a kid that day going to get the gifts that were loaded up under that tree. It made Christmas for us. We appreciate everything they did for us. Thank you."  
- Safe House Resident
To learn more about opportunities to give of your time and skills, please see our Volunteer Program page.
On behalf of Sage's clients and members, our most sincere appreciation for your generosity!
For more information, please contact Janet Askin at 780-809-9407 or jaskin@mysage.ca.
Partners