English as Another Language (EAL)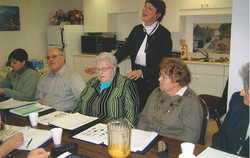 Please note that we have closed our building and suspended most services to support social distancing measures. We are working remotely and continue to respond to essential needs. Staff are monitoring their emails and voicemails daily.
Please check back daily for updates.
"I meet seniors from my country and other countries and we are friends. We are all seniors and we do not feel foolish when we need to go slowly. We can ask questions and the teacher explains so we understand. I like the 'drop-in' because sometimes I am sick and I do not lose my place in class. I am very happy and think life is much better now for me."
It can be difficult to get through daily life in Edmonton, such as running errands and communicating with family and friends when you do not speak English. Sage offers English as Another Language (EAL) classes to low-income immigrant and refugee seniors to help them learn functional English in a safe, non-threatening and fun atmosphere. The curriculum allows seniors to go at their own pace and the classes are a great way to meet new people.
These classes are drop-in, free, and open to all seniors regardless of language or skill-level. Classes are offered at Sage as well as various seniors' apartment buildings throughout the city.
If you or someone you know is interested in taking part in EAL, please contact us at 780-423-5510 for more information.
This program is funded by ECALA.
Join our chat group!
Our Chat Group is for seniors who want to practice their English in a friendly and informal setting. This free drop-in group is a great chance to practice your conversation skills with others.  Hosted by a volunteer group leader. Open to everyone.  Refreshments provided. 
Every Tuesday (until May 24) at noon in our Sunshine Café.