DRAGONFLY Program – information for healthcare professionals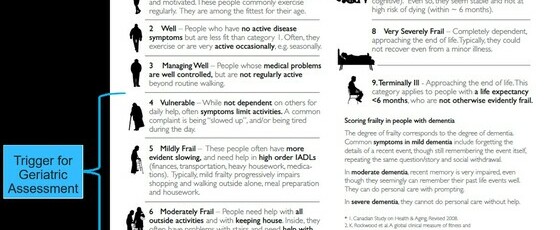 Sage welcomes referrals to the DRAGONFLY Program from Healthcare professionals. Please note that the program is designed to identify and assist individuals living with moderate frailty – seniors between that score a 4, 5, or 6 - as defined by the clinical frailty scale above:
Please also note that while Sage is able to address most aspects of frailty, we are unable to address some medical aspects of frailty directly at Sage. Accordingly, we might be working with you to connect to health resources like physiotherapy, home care, or support the senior as they navigate relevant medical programs.
An Integrated Model
DRAGONFLY uses an integrated model that addresses both the physical and social needs of the senior. We work with the senior to link them to internal and external resources that will improve their quality of life, and follow the senior for at least twelve months to track their progress and make adjustments when necessary.
Domains of Assessment:
Personal well-being
Cognition
Mental Health
Functional Performance
Social Engagement
Social Support
Medication Use
Nutrition
Continence
Physical Environment
Safety and Security
Interested in learning more about the program, including how you can partner with us to serve the needs of frail seniors in our community? E-mail dragonfly@mysage.ca, or call 780-809-9402.
Additional Resources: